International Youth Camp - Troitsk'2002
Language Classes at Bytic Foundation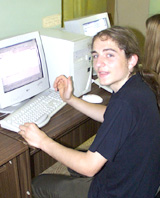 Simmen Jacob
ћен€ зовут яков —иммен. ћне 16 лет. я приехал из √ермании. я учусь в школе. ¬ нашей семье 4 человек. я увлекаюсь музыкой и футболом.
My name is Simmen Jacob. I am 16 years old. I am from Germany. I am studying at Myconius school. There are 4 people in our family. I am fond of music and football.
I live in Gatha. It is a little city near Erfurt! My native country is Germany!
My family consists of 5 people: My father, Klaus-Dieter Simmen, he is journalist, my mother, Magret Simmen, too! I have a older brother, he is 19 years old! His name is Frank Simmen! And my very, very, very, very, very, very lovely cat, it's name is "Peppels"!
Simmen Jacob