International Youth Camp - Troitsk'2002
Language Classes at Bytic Foundation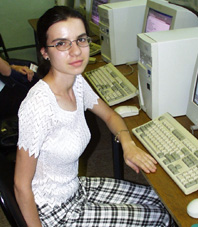 Katia Utyuzh
Меня зовут Катя Утюж. Мне 20 лет. Я живу в России. Я учусь в университете. В нашей семье 4 человека. Я увлекаюсь музыкой, плаванием, игрой на пианино, танцами, катанием на лыжах.
My name is Katia Utyuzh. I am 20 years old. I am from Russia. I am studying at the university. There are 4 people in our family. I am fond of music, playing, swimming, dancing, skiing.
And now I would like to tell you a few words about my native town Troitsk. I like my town very much. It is nice and clean. It is surrounded with the forest, which is very beautiful in winter. This is a town of scientists and new inventions. It is situated not far from Moscow. It is an interesting town to live in. And if you want to know more about it, just ask me.
Katia Utyuzh