International Youth Camp - Troitsk'2002
Language Classes at Bytic Foundation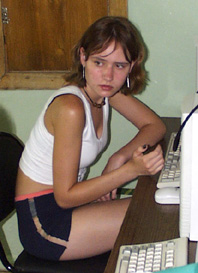 Шура из Троицка
Меня зовут Шура. Мне 15 лет. Я живу в г. Троицке. Учусь в Лицее (закончила 9 класс). В нашей семье 4 человека, кот и попугай. Я увлекаюсь (в данный момент особо ничем), а так вообще играю в большой теннис, учу английский и немецкий языки.
My name is Shura. I am 15 years old. I am from Russia (Troitsk). I am studying at school number 3. There are 4 people in our family. I also have a cat and a parrot. I am fond of DISCO ,big tennis and talking to my friends.
And now I would like to tell you more about myself. I have such a nice cat. He is the most wonderful animal in the world. Everybody likes him very much. I like to go for a walk with him and my friends. I can't live without swimming in the sea(or in the river) and sunbathing. I like travelling, listening to different music and just live as I like.
Шура.