International Youth Camp - Troitsk'2002
Language Classes at Bytic Foundation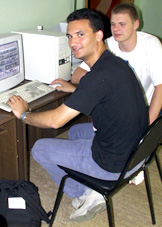 Simone Arnoffi
Меня зовут Симоне Арноффи. Мне 21 год. Я приехал из Венецкой Республики (Италия). Я учусь в университете в Венеции. В нашей семье 4 человека. Я увлекаюсь музыкой
My name is Simone Arnoffi. I am 21years old. I am from Repubblica Sеrenissima (Italy). I am studying at university of Venice. There are 4 people in our family. I am fond of music, Belomorkanal and politics.
I study Russian in Italy and I am very pleased to be here in Troitsk to enjoy this beautiful experience. I think this camp will be useful for all participants and a good way to know Russian culture.
Simone Arnoffi