International Youth Camp - Troitsk'2002
Language Classes at Bytic Foundation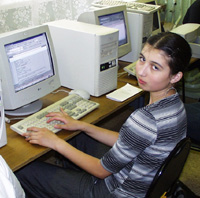 Sofia Sidorova
Меня зовут Соня. Мне 14 лет. Я из Троицка, учусь в школе №3. В нашей семье 4 человек. Я увлекаюсь музыкой.
My name is Sofia Sidorova. I am 14 years old. I am from Russia. I am studying at school. There are 4 people in our family. I am fond of music.
And now I would like to tell you my school. I like my school a lot. I`m studying at the 10th class. My favorite subjects are history and literature. Now I`m on holiday.
Sofia Sidorova