There is a web-site of Troisk students' paper. It was born in 1988 during the Soviet-American Computer Camp (so COMP-CAMP is originated from Computer Camp). To design this project is a new job for us and perhaps our web-site is not so good as we realy want. But anyway it's better than nothing. So we are going to prove our skills and to fulfill the page time by time. Those who cannot read Russian now will be able to have a look. We would appreciate a reply with your impressions.
We are glad to hear from you soon!


Konstantin Ryazanov,
December, 1997 г.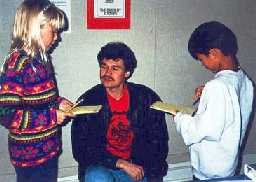 Editor-in-Chief telling young California journalists about Comp-Camp. (Oakland, 1994. Photo by Barbara Bray.)